Royal Academy of Dance (RAD)
Starting in Fall 2021, Hyde Park School of Dance is adding a little something new to its ballet programming: official Royal Academy of Dance (RAD) classes drawing from the current RAD syllabus.
HPSD instructors Ms. Emma Thomas and Ms. August Tye are both Royal Academy of Dance Registered Teachers that remain current with RAD training, philosophy, and syllabus materials, as well as engage in professional development with the RAD organization. They are also the only RAD Registered Teachers in the city of Chicago!
HPSD's ballet syllabus has been based on the RAD syllabus since the school's inception in 1993. 
The highlighted classes on the schedule indicate the RAD syllabus classes we are offering for Winter/Spring 2022.
Royal Academy of Dance just celebrated its 100th anniversary and is recognized as a high caliber dance and teacher training system in over 100 countries. You can learn more about RAD by visiting their website.
What's different about RAD classes? 
The RAD levels are titled differently than HPSD levels, so you will see these special classes listed under the HPSD Level with the RAD level in parenthesis. Dancers who take these RAD leveled classes will be eligible to take the RAD Exams with a certificate of accomplishment awarded after a successful exam. Dancers who register for these classes are NOT required to take RAD exams. The decision to participate in the RAD exams is solely up to the dancer and their family. More information about the RAD exam process will be distributed to help families decide if this is something they would like to try or you can reach out to one of our RAD Registered teachers Emma Thomas (emma@hydeparkdance.org) or August Tye (august@hydeparkdance.org).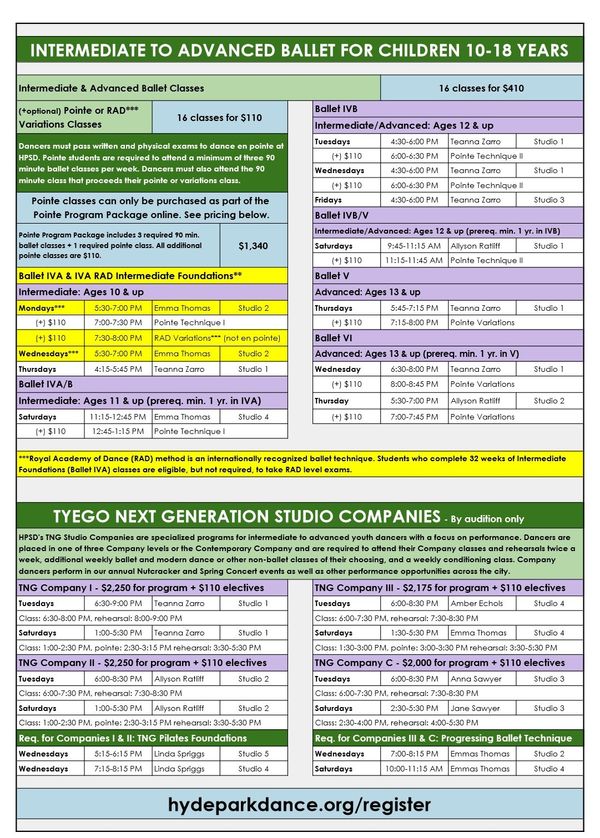 Why RAD at HPSD?
HPSD Founding Artistic Director August Tye learned the RAD Syllabus during her 12 years of foundational dance training at the Bullard School of Ballet in Kalamazoo, Michigan. She took part in a free Teacher's Training Program offered by her instructor to study and become familiar with the syllabus. The syllabus Ms. Tye learned was the Margot Fonteyn Syllabus, taught in the 1970's. 
Ballet, like all art forms, has evolved over time and there have been many updates to the RAD Syllabus since the 1970's . In 2017 Ms. Tye finished a two year program learning and becoming certified in the most up to date RAD Syllabus. It was during that time that she met Emma Thomas who became her designated mentor for the program.
Ms. Emma and Ms. August are inspired by the philosophy, technique and whole child approach to teaching the RAD method. RAD teachers follow a carefully chosen syllabus that is aimed at being fun and safe, allowing students to make progress through various stages. There are also optional exams and assessments at intervals that look at areas such as creativity and musicality. These are great to motivate and reward students, regardless of age or ability.  
RAD teaching is about more than just learning to dance. It is about building confidence and self-esteem, boosting self-motivation and learning crucial communication skills. It also has physical benefits, improving posture and strength.  RAD students are often recognized for their technical expertise and a well rounded dance education.
What is the Royal Academy of Dance teaching method?
What does it mean to be a Registered RAD Teacher?