The Professional Companies in Residence at Hyde Park School of Dance
Tyego Dance Project (TDP) is the professional company run by HPSD's founder and Artistic Director August Tye. Tye founded ATP in June of 1997 with Principal Dancer and Assistant Artistic Director Aimee Tye, and continues to direct the group as its AD. 

TDP's varied repertoire incorporates ballet, modern, jazz, and performance art. During its first year of existence, TDP was commissioned to do works locally for Duets for My Valentine, the beloved Chicago tradition that brings together premier dancers from companies all over the city to perform romantic works each February. That same year, TDP was commissioned to choreograph and perform for the Multi-Racial Identities Conference and for the Kellogg Foundation's National Leadership Development Discussion. In 1999, TDP collaborated with seven-time Grammy-nominated jazz singer Kurt Elling at the renowned Steppenwolf Theatre.

 
"Tyego Dance Project features stunning dancing . . .astonishing technique . . .pointework seamlessly integrated into jazzy choreography . . .sizzling." 
Chicago Reader


"August Tye's choreography looks like something out of an urban dance club: earthy, seductive, full of attitude." 
Chicago Tribune


Tyego Dance Project rehearses at Hyde Park School of Dance, and performs on occasion with the youth dancers of the school for special events, such as HPSD's critically-acclaimed 20th anniversary celebration in 2013. 


Did you know?
The pre-professional youth companies of Hyde Park School of Dance take their names from Tyego: Tyego Next Generation (TNG) is its top-tier division, into which dancers graduate from the intermediate TNG Trainees (TNGT), and before that, the introductory level TNGT Jrs (the TJs). Read more about our youth company program!
The Paul Sanasardo Dancers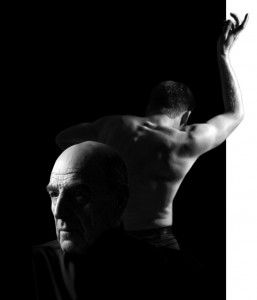 "For 25 years, Paul Sanasardo has been a modern-dance choreographer whose deeply Expressionist esthetic, combined with an admirable integrity, has obviously influenced others. Among those who danced with his company or worked with him in the past have been Pina Bausch and Donya Feuer, two leaders of the strongly theatrical current now sweeping dance in Europe. The pain of humanity was Mr. Sanasardo's main concern. In many ways, he has remained a pioneer, singleminded and faithful to his artistic self."
New York Times, 1985

Paul Sanasardo is a Chicago native, but his work in dance has taken him far. Sanasardo studied at the Art Institute, and eventually made his way to New York, where he wound up studying under modern dance legend Martha Graham, choreographing for Alvin Ailey Dance Theatre, and serving as artistic director of the Batsheva Dance Company, to name just a few of the impressive feathers in Sanasardo's cap. 

Now Sanasardo spends his weekdays at Hyde Park School of Dance, accompanying his troupe on a drum as they rehearse in our studios. The Paul Sanasardo Dancers have performed in conjunction with Hyde Park School of Dance at a number of events, including En Avant, the school's 20th anniversary celebration, and even in our annual spring concert! We are honored to be the place they call home.